A Delightful Menu for Herbivores with Culinary Passion!
Are you a vegetarian food enthusiast searching for the ultimate dining experience in Cardiff? Look no further! Indigo presents an exquisite vegetarian menu tailored exclusively for you. Our culinary experts have crafted a delightful array of dishes that will tantalize your taste buds and leave you craving for more. While vegetarian cuisine may often be overlooked, Indigo recognizes the importance of catering to the needs of those who appreciate the artistry of plant-based dishes. Get ready to embark on a culinary journey like no other with our best vegetarian menu in Cardiff.
Explore a Variety of Options at Cardiff's Finest Vegetarian Restaurants
When it comes to vegetarian dining, Cardiff boasts numerous exceptional restaurants. At Indigo, we take pride in offering a diverse Plant-Based Menu with a selection of delectable meals, ranging from mouthwatering curries to hearty vegan delights. Our commitment to quality is evident in every dish we serve. By meticulously handpicking fresh vegetables and employing the finest vegetarian recipes, we ensure that each bite is an explosion of flavour and satisfaction.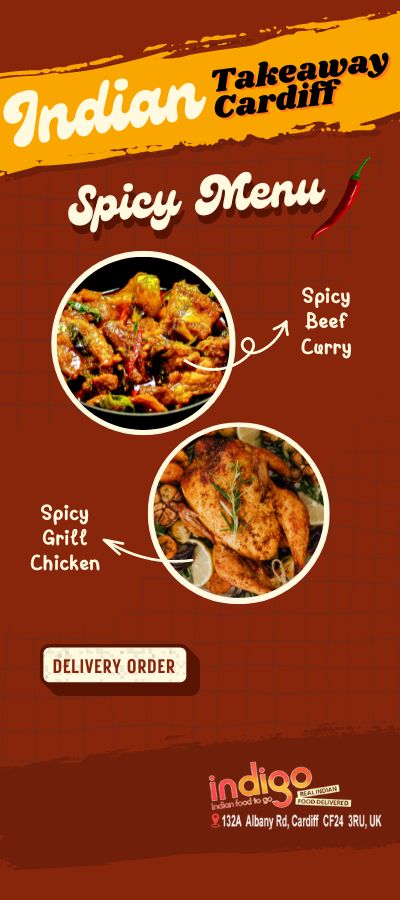 A Multitude of Choices for Vegetarian Dining
When it comes to vegetarian dining options in Cardiff, the choices are abundant. At Indigo, we take pride in offering a wide range of delectable dishes that cater to your vegetarian preferences, including a Meat-Free Menu. From savory curries to hearty vegan delights, our menu is a haven for vegetarian food enthusiasts. You can conveniently order Indian food online to enjoy these culinary delights at your doorstep.
The Finest Ingredients and Authentic Recipes
To ensure the highest quality and flavors, we handpick the freshest vegetables and use only the finest vegetarian and vegan recipes. Each dish is carefully crafted to perfection, promising a symphony of tastes and textures from our Vegan Menu that will leave you craving for more.
Explore Vegan Foods Near me Cardiff Indian Takeaway to Discover a World of Vegetarian Delights
Let's take a look at some of our irresistible offerings:
All these mouthwatering dishes are available at an affordable price range of £2.95 to £3.50, making it a true gastronomic delight.
Bread and Rice Selections to Accompany Your Meal
No Indian feast is complete without the perfect accompaniments. At Indigo, we offer a variety of bread options to enhance your dining experience. Choose from plain naan, keema naan, garlic naan, peshwari naan, and more, each prepared with precision to complement your chosen dishes.
If you have a love for rice, then try our selection of the perfect partner for a real Indian/ Bangladeshi meal with plain, pilau, mushroom fried, special fried, garlic fried, egg fried, lemon fried, or our vegetable fried rice, all available for a low and reasonable price from £2.10 to £2.85. To finish it all off, explore our sauce and chutneys for that extra taste. So next time you are searching for vegetarian takeaway food near a good vegetarian menu or a Herbivore Menu, think Indigo, which is the best Indian Takeaway in Cardiff.
Discover the 7 Best Health Benefits Of Paneer Tikka Masala Cardiff and Enjoy a Wholesome Dining Experience.
Vegetarian Set Meals: A Time and Money-Saving Delight
For those looking for convenience and value, our vegetarian set meals are a perfect choice. Not only do these set meals save you time and money, but they also offer a delicious array of flavors. Indulge in our butter-soft, flavor-rich vegetarian curries
Most Popular Indian Vegetarian Dishes
When it comes to Indian cuisine, there is a rich tapestry of flavors and aromas that will captivate your taste buds. From flavorful curries to refreshing lassi, Indian recipes have something to please everyone. While Indian food often incorporates ingredients like lamb and chicken, it also offers a plethora of mouthwatering options from the Veggie Menu, including delectable Indian vegetarian dishes. Let's explore a collection of these recipes that will take you on a culinary adventure like no other.
Explore Vegan menu just for you! to Discover the Finest Vegetarian Delights.
These delightful Indian vegetarian dishes showcase the diversity and depth of flavors that make Indian cuisine truly exceptional. Embark on a culinary journey by creating a tantalizing Indian feast with these recipes and savor the magic of Indian flavors.
You don't need to cook food for your next party or event, you can trust our service, choose from our vegetarian menu, and order from Indigo Indian Takeaway Cardiff and relax and enjoy your party with your friends and family. We use healthy vegetarian recipes to cook you the best vegetarian food.
Our Indigo takeaway has all the Biryanis and Curries to start your party. We won't disappoint you. All you need to do is order now from the food delivery Cardiff at Indigo and it's our responsibility to serve you with great quality food.
Explore Why Should Try Vegan And Vegetarian Indian Takeaway Dishes? to discover the delights of our vegetarian and vegan options, and stay updated with our latest offerings in our  Bulletin. For more information, check out our FAQ section.